I've taken on a challenge. Well, more like a collaboration with my friend Valerie from ValAroundtown.com. It's a thrifting edition of blogger vs. blogger so you know this was a lot of fun for both of us. Our idea was simple, to create two different looks with roughly the same item of clothing: a men's white v neck t-shirt.
The challenge came in with our accessorizing our individual looks with items found at a thrift store or any other second hand store.  I must say, I really love her take on the white T.
I think I have mentioned before how long ago my love for thrifting began. It all started when hard times fell on my mom when I was a kid. My parents had separated and she had to make her minimum wage salary go as far as she possibly could. That's when we started shopping at the thrift stores for a lot of things we needed, especially clothing.
Nothing could beat blue jeans for $1, a quarter for t-shirts, or even VERY affordable dresses to wear to that next family gathering. At times, I remember hating the thrift store and the dollar store back then – that's where she would buy my underwear. We would make a trip to the thrift store at least twice a month.
After years of complaining, I finally understood that no matter how much I whined our family wasn't going to stop shopping at thrift stores. I decided I would need make use of my time there while they shopped. Like any curious 10-year-old I'd make my way to the toys, wedding dresses and the pretty things behind the glass at the register. I actually started gaining an appreciation for shopping for gently used items.
I learned to skate in second hand roller skates we bought for $1. I fell in utter love with vintage wedding and prom dresses. These are still some of my favorite thrifted items to browse and shop for!
When my mother would ask the cashier to see the gaudiest costume jewelry it was always a treat for me! By the age of 15 I owned my first two vintage wedding dresses, one of which had been used for a Romeo and Juliet school play. Little did I know shopping for wedding dresses would become one of my lifelong obsessions.
I am truly a thrifter by nature! So when the conversation came up about doing a thrifting challenge I could not pass up the opportunity.
Nothing speaks more to my sense of style than over-the-top unique items that can only be found at a second hand store. For this challenge, I used the white T as my base and then accessorized on top of it to please my eye.
This first look was completely found at one thrift store, Goodwill.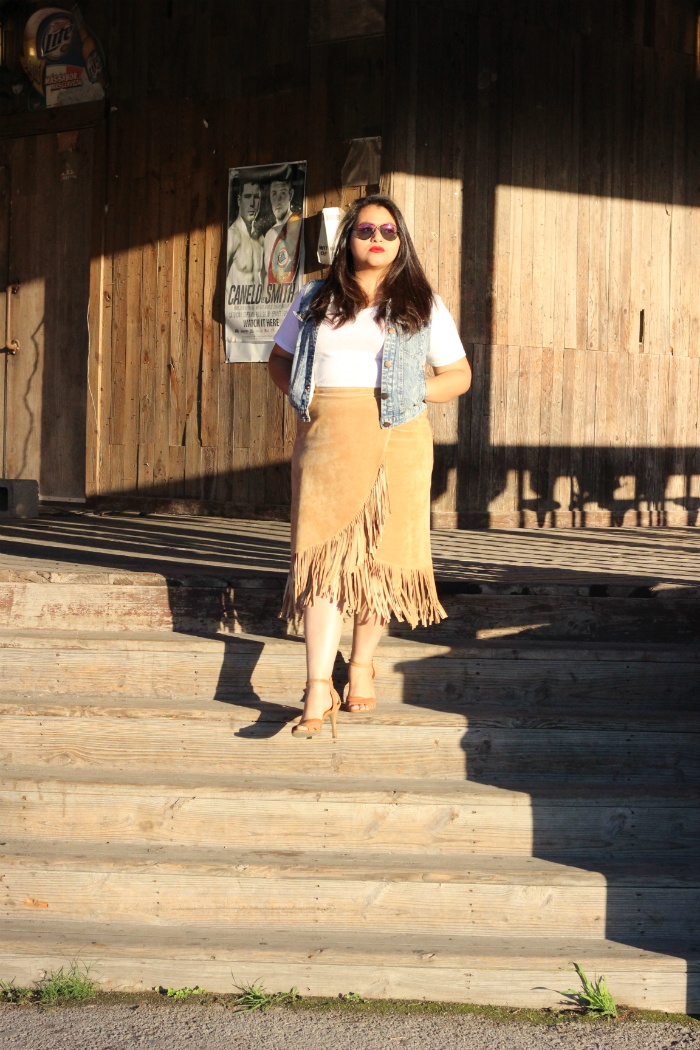 Goodwill is certainly more organized than a lot of thrift stores, but it can be a little pricey for some second hand items. The fringe leather camel color skirt is Chico brand, decently worth more than what I paid for it.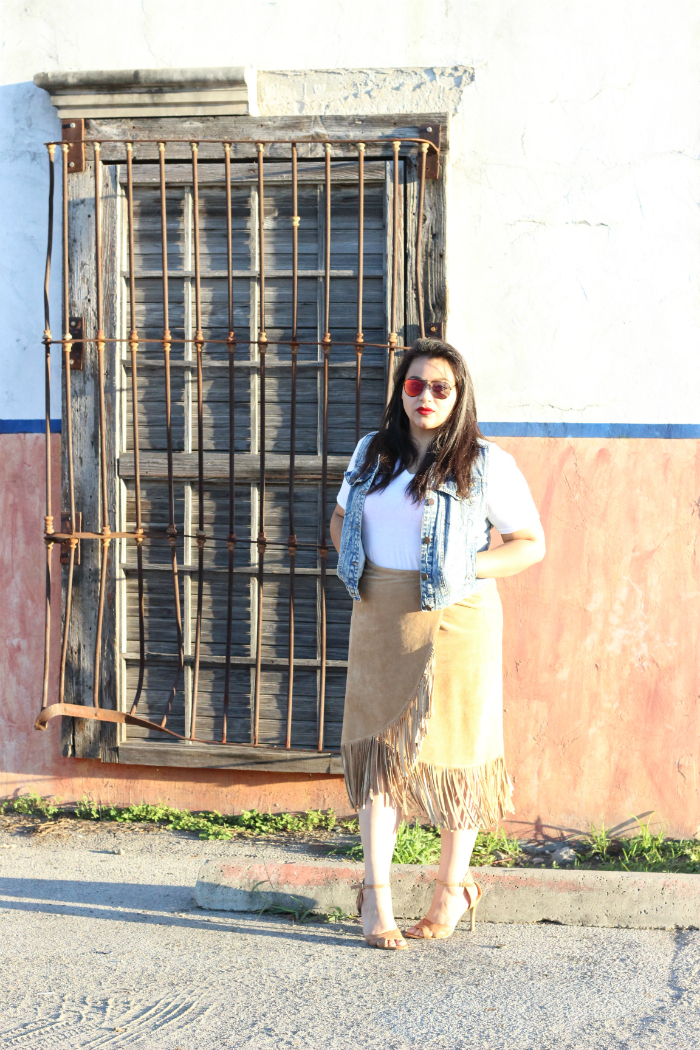 In my opinion, it would sell quickly if I ever considered reselling it.
The blue jean vest with an embroidered skull and metal accent pieces was a great find. I added a pair of nude heels and this look was complete.
My second look is very much me.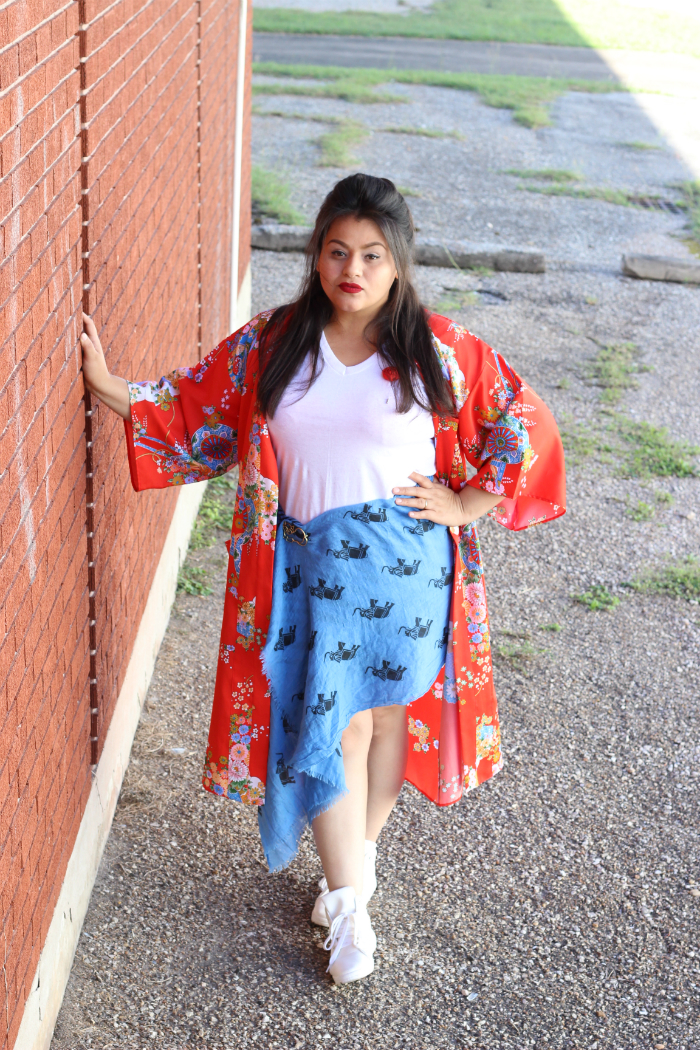 If my husband, mother, son, society and I could all see eye to eye, this would be me all day every day. This is what I feel like on the inside and is exactly who I am. However, I do understand this look might not be the most appropriate for a meeting with clients or say picking up building material from Home Depot. So I save my inspiration for moments like these… displaying it here for the world to see!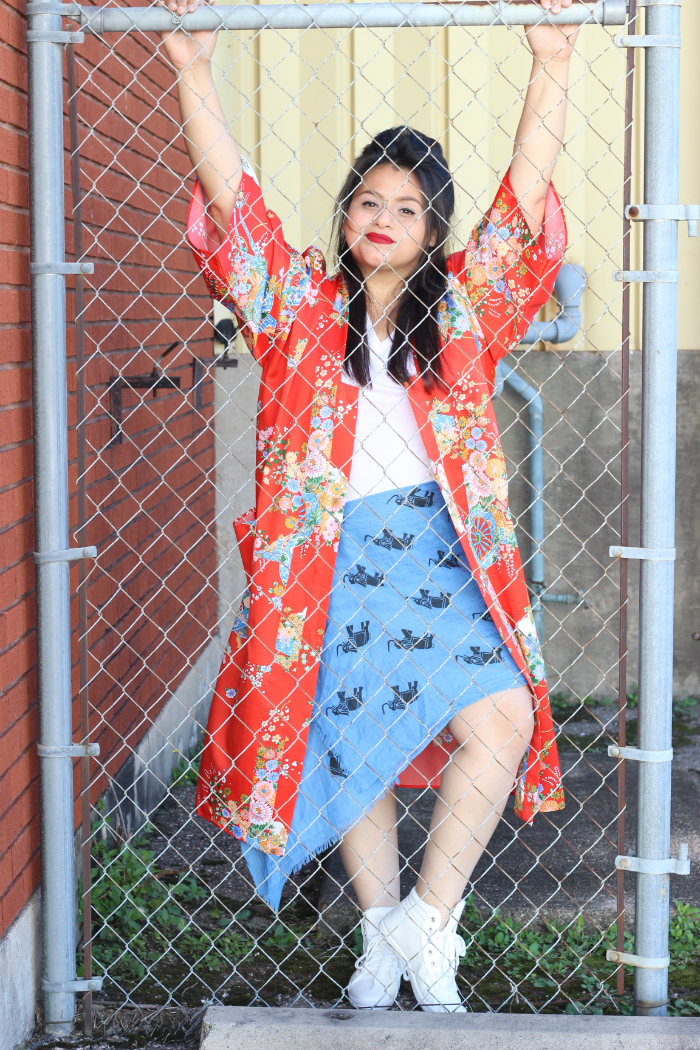 The colorful kimono was found at a Family Thrift Store. The skirt is a DIY I made from a long over-sized scarf, which I can guarantee can be found at any thrift store. Pair it with white high tops and this look is complete and very comfortable, just the way I prefer it.
All in all this challenge was obviously fun. How would you style a plain white T?